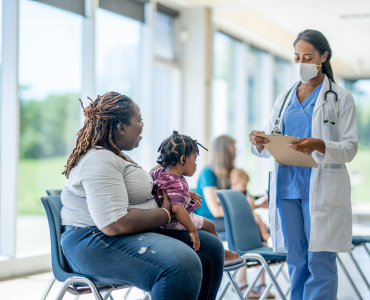 With the colder months peeking through, flu season is near. But where do you go if flu happens to strike you? Your instinct might be to go to your primary doctor to have your symptoms checked but going to your regular doctor or emergency room may have a long waiting period. Have no worries because we will talk about the ways our Urgent Care CAREPLUS services can help you during this fall flu season.
Easy Access.
One of the best benefits about choosing Urgent Care for your flu symptoms is how fast it is to get seen. When you have aches and pains the last thing you want is to have limited options for a check-up. That is why Clinicas offers extended hours at our two Urgent Care CAREPLUS locations. If you're not available to see a doctor during regular business hours, Clinicas Urgent Care offers extended hours. See our Urgent Care professionals Wednesdays through Saturdays from 10:00am to 8:00pm. You don't have to wait days or hours to get an appointment. Urgent Care CAREPLUS is walk-in. It is designed to provide fast attention to non-life-threatening illnesses like the flu.
Specialized Care.
Urgent Care handles many medical conditions. This includes the flu. They have experience in identifying and treating flu symptoms. They can give you care advice for when you are recovering at home. They can also give you medication that can ease your symptoms. Medical staff can even offer flu shots for you and the people you live with to stop the spread. With COVID-19 still being a threat, it's easy to get symptoms confused. Urgent Care makes it easy to get tested for both because they specialize in recognizing flu and COVID-19 symptoms. Specialized care ensures you get the best possible treatment for your flu so that you recover faster.
Cost-Effective Care.
Urgent Care centers are usually cheaper than going to the emergency room when you don't have a very serious problem, like the flu. At Clinicas we make it easy to understand your coverage or the cost. We also offer a sliding fee for those that qualify. This means you won't have to pay as much from your own pocket compared to going to the ER. So, going to Urgent Care can help you save both time and money while making sure you still get really good care without spending too much of your own money. It's a win-win!
Care Near You.
Urgent Care CAREPLUS has two locations in Ventura County. We have an Urgent Care location in Oxnard at our RSJ health center. We have another Urgent Care location in Simi Valley at our East Simi Valley health center. If you live in East County or West County you can bet that quality care is near you when you need it most. Visit us during this flu season to check for symptoms, get tested or get vaccinated.
Visit Clinicas
Clinicas CAREPLUS Urgent Care is here to meet your unexpected needs. Call or visit us today to get the care you need, when you need it. For more information, please call 866.885.7900 or visit our Urgent Care page.