It is my pleasure to welcome you to Clinicas del Camino Real, Inc. Since 1971, Clinicas has served as a leading provider of quality, affordable health care for residents of Ventura County. With a highly trained and educated medical staff, state-of-the-art technology, and convenient locations, Clinicas is building healthy lives and promising futures for people of all ages and cultural backgrounds.
As our community has grown and prospered, so has Clinicas. We are proud to offer a comprehensive range of fully integrated medical services for you and your family. From Primary Health Care, Dental, Vision, Mental Health, Specialty, Pharmacy, Hospital and Preventive Care, Clinicas is your path to good health. We are fully accredited by The Joint Commission and NCQA-PCMH Certified, two nationally recognized standards for evaluating the quality, safety and accessibility to care of health care organizations.
Whatever your medical needs, Clinicas is here for you and your family every step of the way. We look forward to serving you.
Sincerely,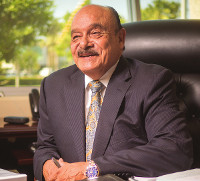 Roberto S. Juarez CEO, Clinicas del Camino Real, Inc.