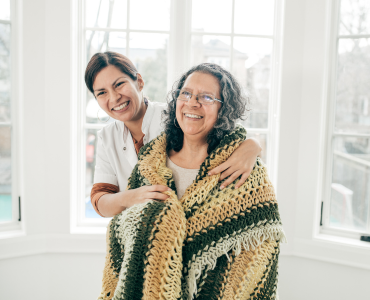 Caregivers are the unsung heroes of a family. They care for family members who need help and often become their sole support system. Caregivers dedicate their time to ensure the well-being of those they care for. Sometime this means at a personal sacrifice. Let's honor their incredible compassion by shedding light on a caregiver's role and how Clinicas can provide resources for both caregivers and loved ones.  
Role of Compassion.
What is a caregiver and what do they do? You might be wondering if you know a caregiver or if you might be one. A caregiver is someone who is responsible for someone's well-being.  This can be their physical, emotional and financial needs. Their loved ones are usually dealing with a chronic illness or disability. Caregivers take on many tasks. This usually includes helping with daily routines, managing medication, prepping meals and more. Caregivers usually work around the clock. Their day is set by those that need them. A question that some may have is why are some people caregivers? A Clinicas patient and local resident lets us in on what being a caregiver means to him; "Some days are hard but mostly what keeps me going is knowing I am there for my family. My mom gave me everything why wouldn't I be there for her when she needs me most" It's a simple answer for many caregivers. Their actions don't stem from anything other than love. A dedication that is truly inspiring.  
Self-Care.
Caregivers do a lot of supporting but let's not forget this job can be hard. If you are a caregiver, make sure that you are also taking care of yourself. You can do this by adding healthy routines into your day. Take deep breaths, inhaling deeply can reduce stress. Try to get some exercise, even if it's just a short walk. Eating nutritious meals and getting enough sleep will help you stay focused. Don't be afraid to ask for help from family or friends, and remember that it's okay to take breaks when you need them. Your well-being matters too.
Helping Hand.
If you know someone that is a caregiver find ways to support them. Expressing your gratitude can lift their spirits. Encourage them to take care of themselves. You can also offer to help with tasks like running errands. Sometimes even lending an ear can give them the emotional support they need. Thankfully, Clinicas provides resources to support caregivers and their loved ones. We offer primary care and specialty services like mental health to ensure your overall well-being. We also provide health education and enrollment services at all our locations. Clinicas is here to support you every step of the way.
Visit Clinicas. 
Clinicas is here to provide you with quality care all under one roof. We understand the importance of supporting caregivers dealing with healthcare challenges. Our Health Education team is here for you. You can read more about our Health Education services online.