CANCER DETECTION PROGRAM (CDP): Every Woman Counts
Clinicas del Camino Real, Inc. is a CDP service provider. Call one of our health center locations for more information on services and assistance with eligibility and program application in both English and Spanish.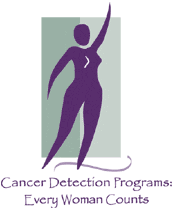 This program has been expanded to give low-income women access to screening and diagnostic services for breast and cervical cancer.
Learn more about this program using these related links:
California Department of Health Services' Cancer Detection Programs:
Every Woman Counts page
Northern California Cancer Center
Eligibility:
Women with income at or below 200 percent of the federal poverty level
Age 40 or over for breast cancer screening
Age 25 or over for cervical cancer screening
Not covered by Medi-Cal, Medicare, or other health insurance or can't afford share of cost (copayment)
Must live in California