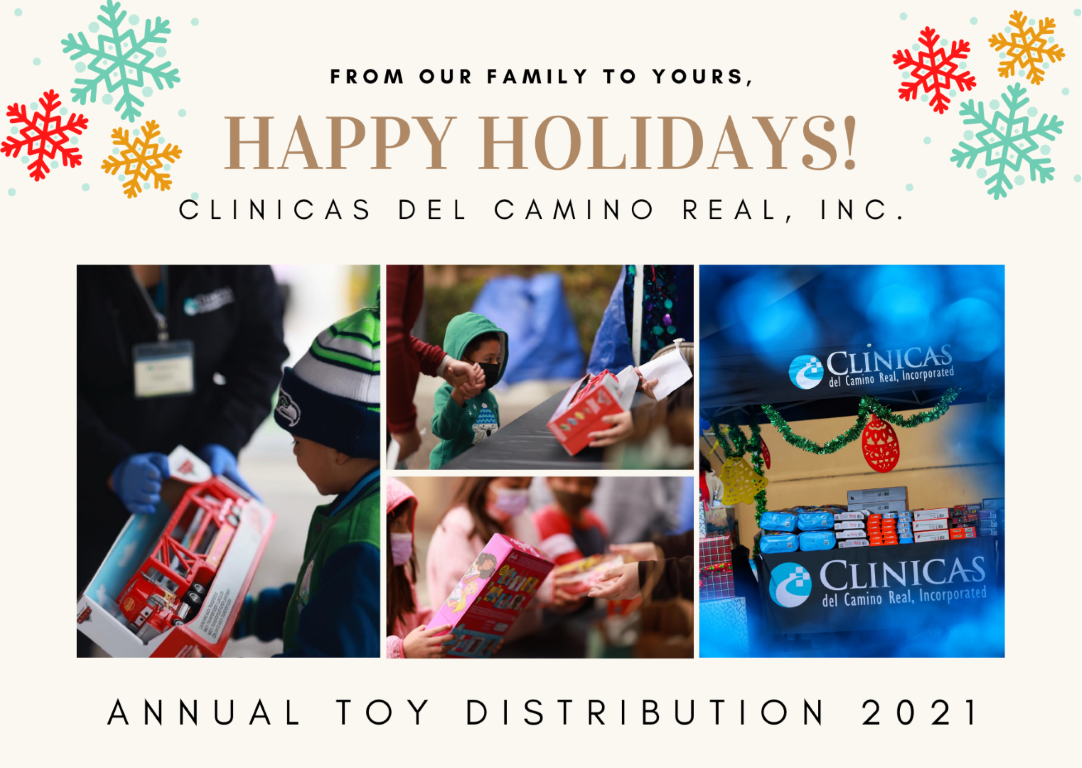 Clinicas del Camino Real, Inc.

Annual Toy Distribution
As 2021 comes to a close, we look back at the immense challenges we've all faced this year. This year has without a doubt been difficult and a little different for everyone. Keeping in mind the patients and their families who put their trust in Clinicas; we recognize that creating joy during the holiday season is just as important as providing quality health care to our community.
This year Clinicas del Camino Real, Inc. was fortunate enough to once again hold its Annual Toy Distribution tradition. A total of 7 contactless drive-thru toy distributions events were held throughout Ventura County during December; where Clinicas proudly gifted a total of 3,976 toys. All Clinicas pediatric patients, 2-10 years old who have attended appointments at Clinicas within the past year we're eligible to receive a voucher from their health center to attend the toy distribution events.
This year was especially challenging due to the continuing pandemic, cold, rainy weather, and shortage of staff. But as long as our patients showed up, Clinicas was there. Our staff and volunteers stepped up ­­—in many ways by coming together and helping. All efforts contributed to helping us take care of our patients and spreading a little bit of much-needed kindness and holiday joy. Our Toy Giveaway is especially meaningful for our patients because, during these tough times for many of them, the toy they receive from Clinicas may be the only toy they receive this holiday season. These events are impactful for our staff because it offers Clinicas staff an opportunity to not only thank our patients but spread the holiday cheer to the children and families that came through our doors this year. Clinicas wishes everyone a safe and Happy Holiday Season and a prosperous healthy New Year ahead!